I appreciate the people who make these things SO much more now. I've been doing this for SIX hours. Maybe more. And... still not even done with Gundam Wing. Let alone my other fandoms. Holy crap. Talk about tedious.
I know it's a pain to follow tags around, even if I label fairly accurately. This is much, much easier for everyone. Except me. Damn, this is hard as hell to do. I knew it would be, but still. It's taking the life out of me. For the record, I fail at summaries and as I get more tired, they fall apart more and more. Feel free to point out any idiocy on my part - misspellings, broken or incorrect links... Slowly, but surely, I'll get everything on here. *Deep breaths*
Oh, and if anyone has any links handy on where I can check out html text modifications, I'll love you forever. My html has never been much more than functional, and I'm staring at the screen going... I know I can make things big and shiny and colorful... somehow... XD
Soooo, I guess I'll date this for way in the future. That's all I have to do... right?
Eventually, this will have the basic outside links to my archives and such along with easy access to all my creative writing on LJ. If you see anything out of place, have suggestions or just want to jump out and scare me, go right ahead. I'm kind of fumbling around blindly, anyways.
This updating system is just so I (and anyone monitoring my progress) can keep track of how close I am to completing this listing. I will try to put an update note after completing the bulk of the work I plan to do at the time.
Update 1: Almost completed archiving Gundam Wing. Some chaptered fics remain. Added 'Arcs' section. Still need to look up text altering HTML. Checked for fics missing the gw tag and found none. Still haven't checked 55_themes for fics that may not be in my journal from 2005. Also noted that several older entries need their tags updated. Considering putting a writing tag on fanfiction as well as poetry and original pieces.
Update 2: Completed archiving current GW pieces. Completed Hikaru no Go section. Added the Fairy Tail tag. Added Fairy Tail section. Added Air Gear section. Added Original, Bleach, NANA, Black Cat and Naruto sections. Still need to check for writing tags. Need to track down original poetry and add original tag to it. Still need to check 55_themes.
Update 3: Realized some Hikago pieces are missing. Will fix later. Also missing the story Matched from Pride and Prejudice.
My LJ Fanfiction Archive
Sorted By Fandom and Length
Alphabetized per section
(
LJ Fics: Currently Under Construction
Collapse
)
Bonkers Rating: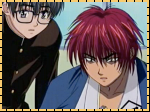 confused